Aurora Borealis, Night Sky and Weather Information
Last updated January 1, 2016
Aurora Borealis north of Calgary after a thunderstorm, the clouds are orange due to reflection of city lights.
Watch this amazing movie of the Aurora live at Aurora Village in Yellowknife by Kwon o Chul


Introduction to Night Sky and Aurora Photography Resources
On this page you will find links to resources that provide Aurora alerts for Yellowknife, Calgary and Western Canada, including night sky maps, moon phase and weather information. If you would like to photograph the Aurora Borealis I recommend the first thing you do is subscribe to some of the Aurora alerts that will notify when their might be an opportunity. The aurora is best viewed and photographed in the Northern parts of Canada with Yellowknife being one of the best locations in the world. That said, I have photographed the aurora in Calgary on several occasions. The aurora follows a 11 year solar cycle and its frequency is correlated with the number of sun spots. I have fond that midnight seems to be the best time to view the aurora but it varies. Generally the aurora is most active around the Spring and Autumn equinoxes. In order to view the aurora you also need a clear skies, and they appear brighter during the new moon when its darkest. If you would like to photography the aurora check out my articles on this site and you can purchase my Aurora Quick-guide for only $2.99 and download it onto your mobile device for handy reference even in the dark. The links below should be helpful to anyone interested in the aurora and night sky photography.
Calgary Location and Weather
Calgary Latitude: 51.05515 N Calgary Longitude: -114.06244

Calgary Local Time
Calgary Weather Office Environment Canada
Calgary Weather Forecast
Banff Weather Forecast
Kananaskis Weather Forecast
Drummheller Weather Forecast
Waterton Weather Forecast
Yellowknife Weather Forecast
Canada Weather Office
Calgary Sunrise and Sunset time
Banff Sunrise and Sunset time
Alberta Cloud Cover Map
Clear Sky Chart for Calgary, Alberta
View Clear Sky Charts for other cities in Alberta ClearSky Maps for Astronomy
Photographers Ephemeris - Free APP by Stephen Trainor shows location of sun and moon rise anywhere - COOL

Moon Phase
View Moon calendar for any specific month of the year
Monthly Dark Sky Calendar based on the moon
Moonrise and set - RASC
Sun spots and Solar Activity

Space Weather.com - Sunspots, Aurora, Current Aurora Oval, Solar Wind - subscribe to Aurora Alerts
Solar Terrestrial Activity
SOHO Solar and Helisospheric Observatory - information about the Sun
Current Solar Data from NOAA
LIVE CURRENT SUN SOLAR ACTIVITY MONITOR
SOLAR X-RAYS:

GEOMAGNETIC FIELD:
Aurora Alerts & Space weather Information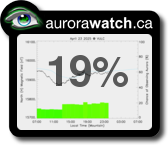 University of Alberta Aurora watch based on magnetic field readings updates every 12 seconds
Canada space weather and aurora forecast by region
Canada space weather forecast by magnetic activity 27 days
Univ. Alberta Aurora Watch
Solar Terrestrial Dispatch - Sterling AB - Aurora forecast paid service
Astronomy North - Aurora Forecast in Yellowknife, NT
Astronomy North - Current sunspots and Live AuroraMax photos
Astronomy North Solar Cycle Update
Aurora Forecast for White Horse in the Yukon
Aurora Forecast for Northern Canada by Alaska Institute




Click on this text or on the picture Above to view the Aurora live in Yellowknife - the picture updates every 5 seconds (note the camera is only operational when its dark, during summer it's turned on after August 15)
More Links on the Science of Space Weather for Science Geeks
Collection of more Aurora links
Aurora Forecast at Soft Serve News
NOAA Space Weather Prediction Center
Canadian Space Agency Aurora Max Live views of Aurora in Yellowknife
Swedish Institute of Space Physics real time aurora monitoring
NOAA Space weather prediction center - Solar Wind, Aurora and Solar Cycle Progression
NASA Solar Cycle 24
Aurora Max Slide Show and Information Canadian Space Agency
THEMIS Canada real time auroral images every 6 seconds
Aurora 30 minute forecast
Michigan Tech Aurora Forecast
The Interplanetary Field and the Bz index as used to predict the Aurora
Understanding the Kp value and the Aurora
Solar Flares and Classification at Wikipedia
Current Aurora Research at the University of Calgary
A Study of the Aurora Borealis and Geomagnetic Disturbances PhD Thesis - 1954 PDF
Study of Aurora Relates Sound And Electric Field Effects - MSc Thesis 2005
The Sound of the Aurora - theories on why some folks might be able to hear the Aurora
Ground based research on the Aurora
Radar and Optical observations of the Aurora - PDF
Simulating the Aurora with Software - University of Calgary & Waterloo- PDF
Simulating the Aurora Borealis - University of North Carolina - PDF
Latitude 64 Aurora Photos by Jan Curtis
Aurora Research by Dr. Eric Donovan University of Calgary
Aurora Research contributions by Dr. Eric Donovan Univ. Calgary - PDF
Neave.com Interactive star sky maps - planetarium software

Aurora Articles on the Canadian Nature Photographer
Aurora Borealis Photo Gallery by Robert Berdan
Time Lapse Photography of the Aurora Borealis by Robert Berdan
Aurora Borealis along the Ingraham Trail outside Yellowknife by Robert Berdan
Photographing the Aurora around Calgary by Robert Berdan
Arctic Adventure III - Aurora Borealis by Robert Berdan
Chasing Caribou and the Northern Lights by Robert Berdan
Photographing the Night Sky with your DSLR camera by Robert Berdan
Photographing the Aurora Borealis "Northern Lights" with your Digital Camera by Robert Berdan
Alberta Aurora Photography by Zoltan Kenwell
Click on the buttons below and share this site with your friends